Unicorn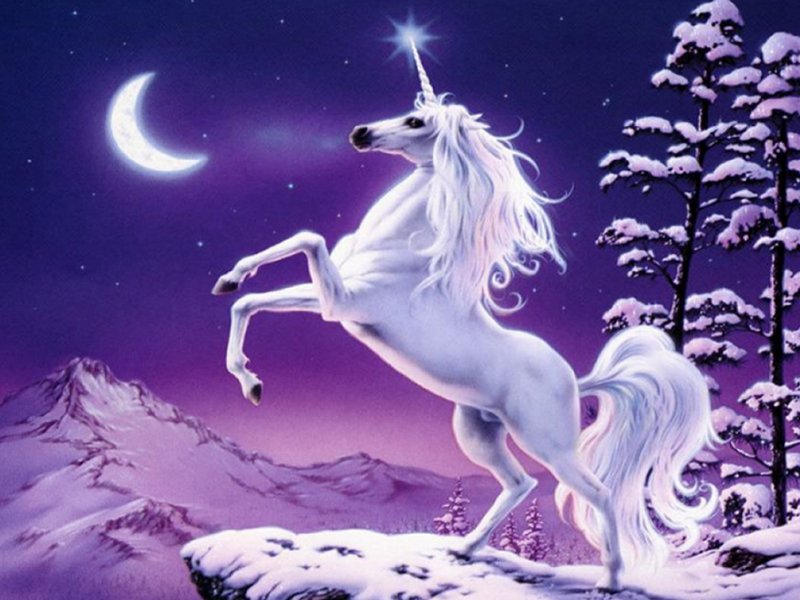 The Unicorn is a legendary animal from European folklore that resembles a white horse with a large, pointed, spiralling horn projecting from its forehead, and sometimes a goat's beard and cloven hooves. First mentioned by the ancient Greeks, it became the most important imaginary animal of the Middle Ages and Renaissance when it was commonly described as an extremely wild woodland creature, a symbol of purity and grace, which could only be captured by a virgin. In the encyclopaedias its horn was said to have the power to render poisoned water potable and to heal sickness. Until the 19th century, belief in unicorns was widespread among historians, alchemists, writers, poets, naturalists, physicians, and theologians.
Unicorns exist to protect forests from intelligent creatures. They dwell deep within their forests, and shun most creatures, only conferring with Feys. They will show themselves to save their forests however. Unicorns are strongly magical creatures, with most of their abilities coming from their horn. Unicorns are highly prized for the magical properties of their horns and their value as mounts.
Type: Mythic Animal
Setting: Forest, or any woodlands
Era: Any
Physical Traits: The Unicorn is a mysterious, majestic magical beast. It resembles an imposing and beautiful white horse, with glowing eyes, a silky mane and tail, and the stereotypical spiralling, shell-shaped horn coming from its forehead. Unlike a horse, they have cloven hooves, and males have a goat's beard.
Height: 1 metre
Weight: 360 kgs
Mobility: Legs
Sensory Organs: Visual
Communication: Vocal
Reproduction: Sexual
INT: 3D6, WIS: 3D6, STR: 3D6, DEX: 3D6 +3, CON: 4D6, CHA: 3D6, MR: 7D6, HPs: 5D8
AC: 2, Thac0: 15
Abilities:
1) They are able to sense evil within 100 metres, and radiate an aura which protects them from most evil spells.
2) The touch of their horn can both heal wounds (up to 6D6 per touch) and cure poison.
3) Also, once a day, a unicorn can teleport to anywhere in its forest home (although they cannot teleport in from outside the forest). Unicorns often use this ability as a last resort to avoid death or capture.
4) Unicorns move very silently, so opponents are penalized -6 on their surprise rolls. Unicorns can kick with their front hooves and thrust with the horn each round. Due to the horn's magical nature, it always has a +2 bonus to hit. Unicorns can charge into battle, using the horn like a lance. To make this charge, there must be at least 30 feet of open space between the unicorn and his opponent. Opponents struck by a charging unicorn suffer 6D6 points of damage from impaling. Unicorns may not attack with their front hooves in the round they charge.
5) In addition, unicorns can never be charmed or held by magic. They are immune to death spells and make all saving throws against spells +7. Unicorns are immune to poison.
Feeding Habits: Herbivore
Lifespan: They can live up to 1000 years, and show effects of aging only weeks before death.